Senior Blackhawks Basketball w/c 28th June ongoing
In line with Government and Basketball England Guidance senior basketball sessions resumed w/c 17th May. The number of participants in the hall will be limited to 30 and everybody will be screened before entering the hall.
The sessions for week Commencing 28th June will be held at Woking COllege
Wednesday 30th June - 20:00-22:00 - Ladies
Thursday 1st July – 20:00-22:00 - Senior Men 1 & 2
Friday 3rd July – 20:00-22:00 - Senior Men 3 and visitors
The Club will be setting up a new system for the administration and collection of subscriptions and fees using 'My Club House' full detail to follow.
To register and sign up for sessions click here
Initially sessions wil be charged on a 'pay as you go basis' until monthly subscriptions are reintroduced
Hunters 96:72 Basingstoke Blizzards
A great win at home over Blizzards have reinforced the Hunters position at the Top of DIvision 1
The first half was nip and tuck with the teams exchanging baskets and lead. In the Third the Hunters turned up the pressure and went on a 13:0 run after which the Hunters controlled the game
As ever it was an all round performance with Coach Knode providing support from Leeds :-)
Hunters travel away next Wednesday to Slough to continue their quest for the Division title
New Youth Web Pages
A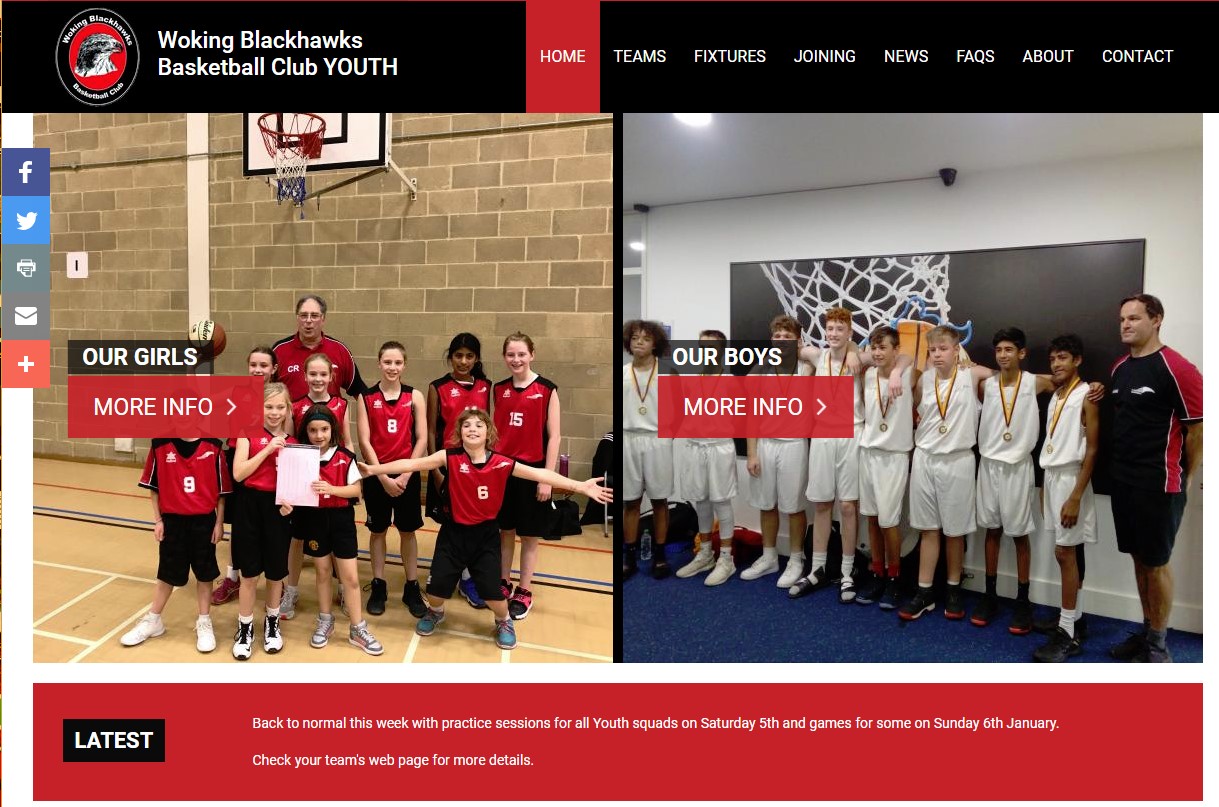 The new Section of tf the Web Site for the Youth Section has just been launched
The Site can be accessd from the Youth Option on the Menu Bar above above or via the link below
https://www.blackhawks-basketball.co.uk/
Warriors Tournament 2017
The Warriors Tournament was held at Aldershot Garrison Sports Centre on Sunday 30th April. The Tournament is run by the Army in the run up to the Inter services tournament the following weekend. The Tournament is a three way competition between the Army, Wessex representative squads and a third invited squad in seniors men, ladies and under 23 categories.
This year Woking Blackhawks were asked to provide an under 23 squad, coached by Costas Rakitzis, to represent Wessex and The Flyers were asked to enter in their own right as the third squad in the Senor men group.
Flyers Retain the Surrey Rosebowl

The Surrey Rosebowl Tournament was held at the Surrey Sports Park on Sunday and the Woking Blackhawk Flyers were out to retain the title having won it three times in the past four years.
It was inevitable