Senior Blackhawks Basketball
The Club Uses My Club House for the administration and collection of subscriptions and fees using My Club House Sessions may also be checked on MCP
To register and sign up for sessions click here
Senior Sessions Summer 2022
From Monday 27th June, the Summer Seasons at Woking College will now generally be
Mondays 20:00-22:00 - Mens training for Blackhawks 3 and visitors
Tuesdays 20:00-22:00 - Mens training for Blackhawks 1 and 2
Wednesdays 20:00-22:00 - Ladies Training - Members and Non-members
Thursdays 20:00-22:00 - Mens training for Blackhawks 1 and 2
Fridays 20:00-22:00 - Mens training for Blackhawks 3 and visitors
Sessions can be confirmed and signed up for on the MyClubHouse site by clicking here
The addess of Woking College is Rydens Way, Woking GU22 9DL
BLACKHAWKS CLINCH DIVISION 1 TITLE
Forever 'Pasalans Corner'
Woking Blackhawks 59:58 Yateley SIlverbacks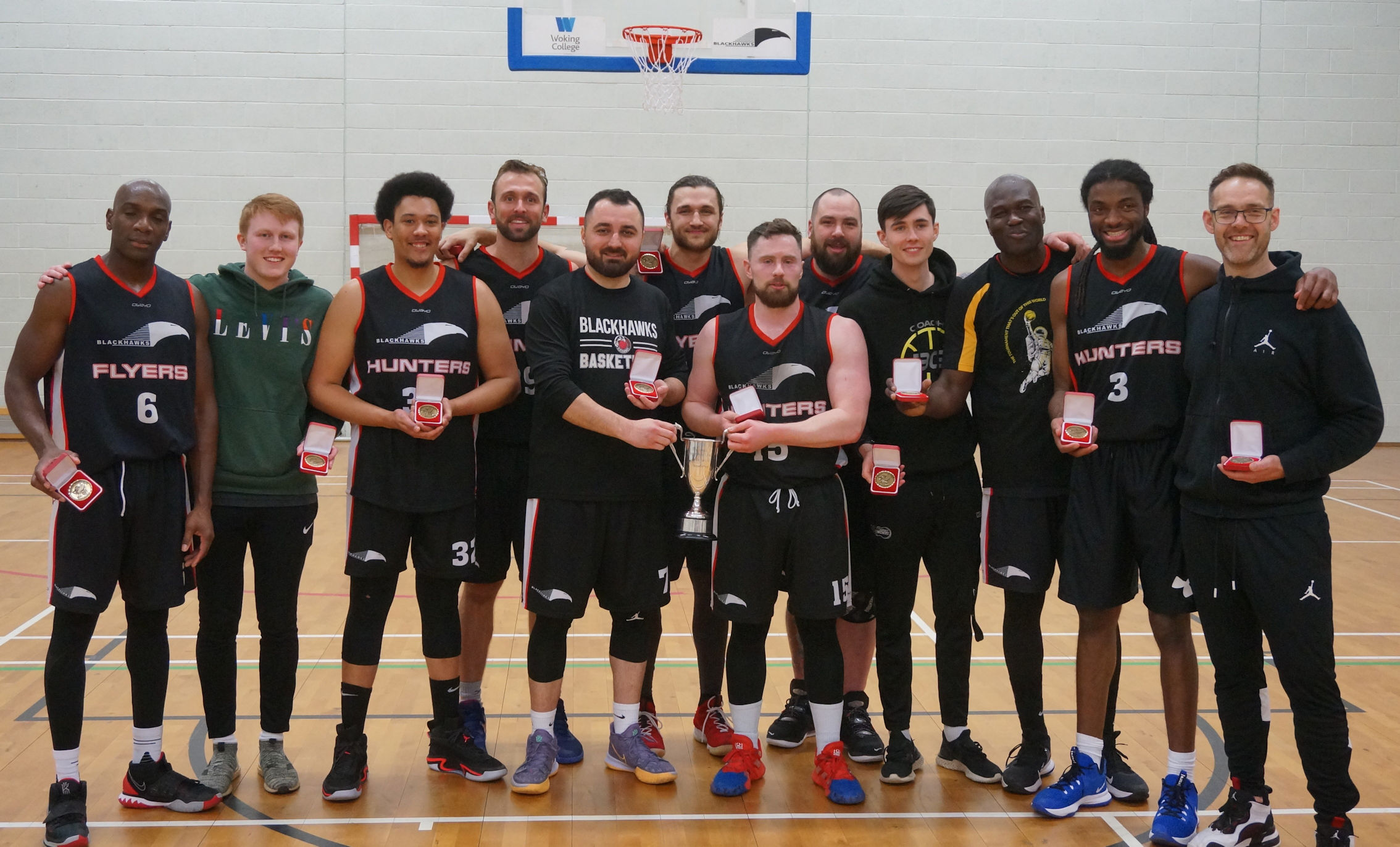 Blackhawks had two games left in the league but only needed the win against Yateley to take the league title.
In the first meeting, at the beginning of the season, Yateley took a comfortable 25 point win, that was the last game the Blackhawks had lost this season
Both squads had full benchesand for the first two quarters they traded baskets resulting in the Blackhawks having a marginal one point league at the half 31:30.
BLACKHAWKS TWOS 71 - 62 BC LT Utd
Blackhawks 2 win a hard fought game against short handed BC LT Utd to move up to 4th in the league.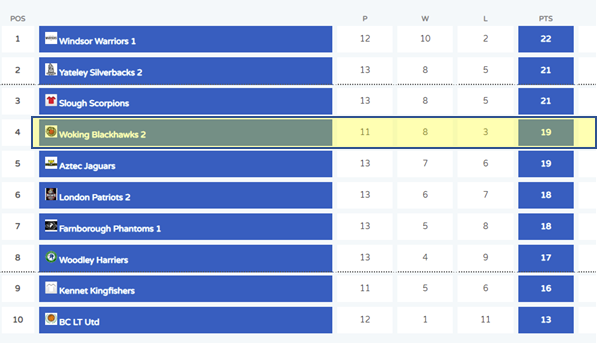 BLACKHAWKS TWOS 75 - 58 WOODLEY HARRIERS
Q1 21:6, Q2 24:10, Q3 13:15, Q4 17:27
Blackhawks were fast off the tip scoring 21 by the end of the first quarter while tight defensive play limited Woodley to 6 .The pressure continued to the half where a lead of 29 made a come back by Woodley unlikely. Woodley however did rally winning the second half by 17 , which was not enough to deny the Blackhawks the win.

Team Captain Curtis Pearson led the scorers with 20pts being well supported by Cleb Pansera(13pts) and Elliot Shillingham(10pts). Coach McGill was pleased with the result in which all the members scored. The result maintains a six match winning streek placing the Twos well in contention for the play-offs and Division title. However with still 10 games to be played the final months of the season will be busy.

Next fixture will be away to Windsor Warrios on the 15th February

Squad – Pearson 20,Woods D 5, Grainger 2, Awojobi 4, Shillingham 10, Brown 2, Piercy 2, Woods B 8, Osman 2, Shorter 5, Pansera 13
LONDON PATRIOTS 50 : 67 BLACKHAWKS ONES
The Ones, ably assisted by some of the Two's squad playing up, pulled off a convincing away win against London Patriots despite the squad being depleted due to injury and Covid. After a strong first quarter by the Partiots, the Ones took control of the second and third quarter to which the Patriots could not respond The win puts the ones in second place in the League with five games to be played.
Next game the Ones hosts Woodley Thunder at Woking College on Thursday 17th February 20:15 tip - come down and support them
Squad :- R.Johnson, B.Greenwood, E.Pasalan, M.Dodd, J.Grinham, S.Piercey, B.Woods, J.Reeve, M Connor, C Pansera - Q1 20:17, Q2 6:11, Q3 3:20, Q4 21:19