Senior Sessions
In Accordance with Government Guidlines all seesions are presently suspended.
Another Good Year for the Senior Blackhawks

The Senior section of the Club held their Annual Awards Ceremony at Sutton Green Gold CLub on Friday 7th June. Compared by retiring Senior Section Chairman, Rick(Old Dog) reflected back on another good year for the Section with over 60 players competing in the four squads at all levels in the Wessex League.
The Hunters won the Warriors tornament competing against the Army and South Bucks, with Rhys and James putting on a stunning show of three point shooting.
Three of the four squads progressed to the Wessex League play-off semi finals , although none made it to the finals.
Rick thanked the Senior Committee in particular Coaches Dan , Rick and Annabelle for thei support and is confident that in the hands of the new Senior CHairman Dan North the Seniors will conitnue to progress.
The Awards presnted during the evening were -
| | | |
| --- | --- | --- |
| Squad | Award | Name |
| Blackhawk Ladies | Most Valuable Player | Lisa Bhaura |
| | Best Newcomer | Aleena Sahi |
| | Most Improved | Laetitia Retzepter |
| Blackhawk Thunder B's | Most Valuable Player | Raul Villta Vila |
| | Most Improved | Aaron Watts |
| | 6th Man | Oscar Brown |
| | Coaches' Player of the Season | Alex Ingram |
| Blackhawk Thunder A's | Most Valuable Player | Diogo Costa |
| | Most Improved | Matt Bromley |
| | 6th Man | Peio Gonzalez |
| | Coaches' Player of the Season | Cleberson Pansera |
| Blackhawk Hunters | Most Valuable Player | Dan Marshall |
| | Top Scorer | Jonathon Teagles |
| | Team Player | Nick Sammut |
Rick Reminded everybody that the Club AGM will be held on the 24th June at Windston Churchill School Sports Centre startin at 20:00
Senior Basketball
Woking Blackhawks aim to provide an inclusive environment that provides opportunities for players of all standards to train and compete
Ladies
For the 2018/19 season the ladies are being coached by Annabelle Hardiman and managed by Helen Price.
The Ladies train at Woking College on Wednesdays except when there are games.
Ladies compete in Wessex Basketball Ladies Division 1 and the Richard Bell Ladies Cup
For Infomation on Ladies Basketball please Contact Helen by Clicking Here
Mens
Under the control of Head of Seniors Rick Lansdell.
For the 2018/19 season there will be 3 senior men squads.
Hunters - to compete in Wessex Basketball Association Division 1
Thunder A. - to compete in Wessex Division 2
Thunder B. - to compete in Wessex Division 3
For more information on the individual squads please see the squad pages.
Registration
All players must complete a registrations form and arrange payment of £36/month subs. SUbs cover all training and game fees.
CLick Here to download the Senior Player registration form, please complete and return it to the squad coach
If you are interested in playing or just want some information please email Martin by or call on 07785 928614
2018/19 Final League Positions.

If you're interested in playing the Club Welcomes new members please Click Here for more information
New Lady on the Table
Congratulations to Steph on completing her level 2 Table Official Award thia season during which she officiated at many games to gain her qualification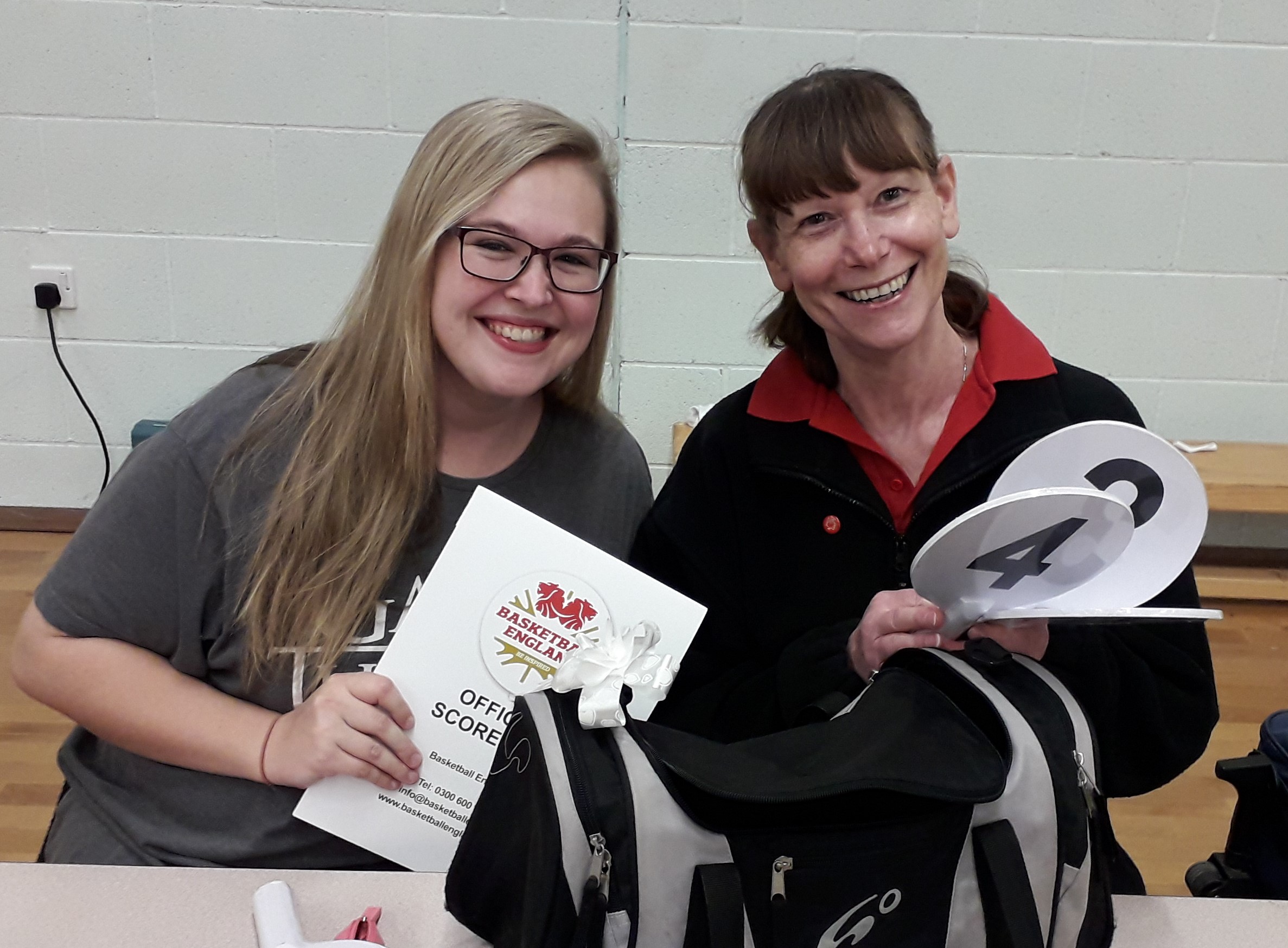 At the Thunder Game on Friday she was presented with her Table Kit and is seen ready to use her new scorebook with Jenny. Thunder came away with a 7 point advantage for the second leg.